What is Happening to Traditional Marriage?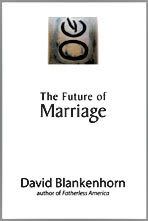 Maggie Gallagher on
One News Now.com
explains the outcome of marriage as she talks about her former boss, David Blankenhorn, and his first book "The Future of Marriage" as it relates to fatherless families when the "tossed salad" version of a family is created. Click
HERE
for Ms. Gallagher's full story and click on the above book icon to read about and purchase Mr. Blankenhorn's first book.