Same-Sex Family IKEA Commercial Shown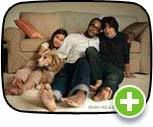 If you have not seen the IKEA commercial that depicts same-sex couples as "families", click
HERE
to view it.
I have not seen the commercial personally on T.V., but my friend John who lives up in New Hampshire said he saw it twice in one day on channel 9, WMUR, around the time of a weekend evening news report.
I have stated the dangerous facts about same-sex "families" time and time again here on my blog, with a post titled
"Question: How does same-sex marriage harm our understanding of humanity?"
being the most informative on this issue.
Let's stop the propagation of the homosexual agenda and teach our children not only which lifestyles they should not make fun of or negatively scrutinize, such as homosexuality, but which lifestyles are dangerous and incriminating to others well being, such as homosexuality.