Hurdle Number One Has Been Cleared!!
As I showed up at the State House early yesterday morning to spend another day in the House Gallary not many soles were around. For what was going to be one of the most historical days in Massachusetts politics, regardles of the outcome of the marriage amendment, not many supporters or opponents wanted to brave the cold and windy weather. As I was talking amongst my collegues about the lack of attendance for the Constitutional Convention I began to see more and more people gather out in front of the State House. With traditional marriage supporters on the State House side and gay marriage supporters across the street an obvious fact came to bloom as I was holding my "Let The People Vote" sign. All I could see on the State House side were the same signs as I was holding, with the "Jesus is Lord" banner and the homemade "Let The People Vote" signs sprinkled in for good measure. All I could see across the street were signs that read "Bigots" as well as "Hate Mongers". My favorite sign read "Learn to Be Tolerant". I really had to stratch my head on that one. Nonetheless, There was a whole lot of name calling and screaming from our opponents and a whole lot of "let the people vote" chants from our side. I'm sorry, who needs to be more tolerant??????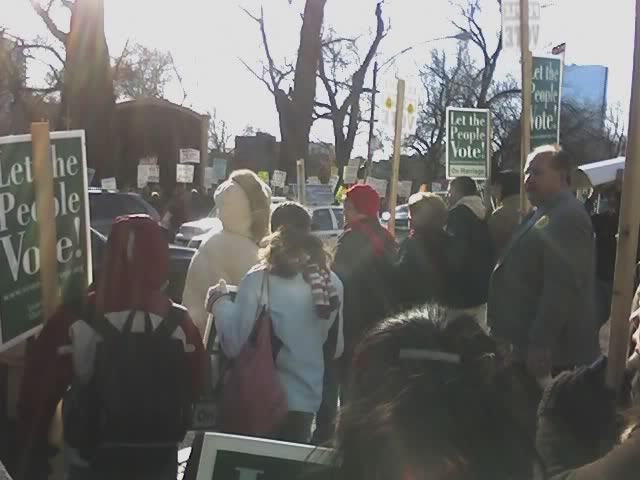 This screaming and "tolerant" theme continued even at the end of the day as marriage supporters gathered at the base of the State House steps to congratulate others for their hard work over the past year. Gay marriage supporters could not just walk by and be on their way. They had to yell such things as "bigots" and cause a big scene. Well, that's O.K. because for those who celebrate "extensions of time" for their cause, as was done after the conventions were recessed in July and November, dealing with a REAL celebration is hard to swallow. For the last formal session of the current legislature, the day was filled with confusion and shock as the amendment prevailed by a vote of 62 - 134, which was 12 more votes than was needed for the amendment to move forward. Although the marriage amendment still needs to have the approval of another 50 legislative officials during the next Constitutional Convention in 2007, the first hurdle for democracy was cleared. For a
local
and
statewide
review of the day's events click on the colored coded words. For a look at how legislators voted
click here
. For other local coverage concerning the marriage amendment
click here
and
here
.