A Personal Message From Kris Mineau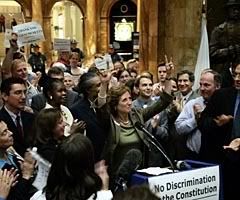 Last week, Arline Isaacson, co-chair of the Massachusetts Gay and Lesbian Political Caucus (and chief lobbyist for the Massachusetts Teachers Association), stood boldly before a cheering crowd at the State House shouting "it's over, it's over." By a vote of 109 to 87, legislators recessed the Constitutional Convention to January 2 without taking a vote on the people's amendment on marriage. Each of those 109 legislators personally broke their oath of office and violated the constitution with the clear intention of never taking a vote on the people's business.
Media outlets from the Boston Globe to the Wall Street Journal and all across the Commonwealth and the country have opined about this dereliction of duty by the Massachusetts legislature. I have only one thing to say to Arline Isaacson and those like her:
No, it's not over!
But to you and the tens of thousands of concerned, involved citizens who have stood with us since the beginning of this fight, I have this to say:
We'll continue to fight until justice and democracy rule in Massachusetts for all citizens!
While the legislature intentionally provided few alternatives for us with their blatantly unconstitutional maneuver, we are not without options and we are not without hope. Backers of the Marriage Amendment are not alone in this fight. In their rush to shut down the Constitutional Convention to run from the same-sex marriage issue, lawmakers also gave a blow to a citizen-initiated amendment on universal healthcare. This measure, too, deserves a legislative vote. As of now, January 2 is the day of reckoning for a vote on the Marriage Amendment. Then we'll see if House Speaker DiMasi will continue to be successful with his arm-twisting of members - many of whom stood with us not to recess until the Speaker personally pressured them into violating their oath of office. As you know,
gay-rights advocacy organizations
, according to their own gay and lesbian newspaper, Bay Windows,
poured $1 million into the November 7 election
for one key reason: so lawmakers would be indebted to them and return the favor by killing the Marriage Amendment by any means possible. This is a tragic time in our democracy, and will be a defining moment in our history. The actions of those who oppose real democracy are being exposed and people like you and me are standing up for truth and justice.
We're mobilized, and we're not backing down!
Your continued presence at the State House during key events is crucial, and we're looking ahead to a January 2 showdown. Your calls to legislators, letters to the editors, and personal dialogues with friends and family to get them involved in this noble fight will ultimately win the day. Be sure to visit
VoteOnMarriage.org
for the names of the 109 legislators who betrayed our constitution and violated their oath of office. We can move Massachusetts in the right direction by simply standing up in the face of a state legislature dominated by greed and arrogance. It's our state, not theirs. Don't let them take away your right to be heard! Please, continue to take action as we send updates and alerts on our progress going forward. There are 49 days left between now and January 2.
Together, we will win this fight!
May God bless the Commonwealth and all our families,
Kris Mineau President, Massachusetts Family Institute and Spokesman, VoteOnMarriage.org