Nebraska's 'Too Broad' Marriage Amendment Ruled Constitutional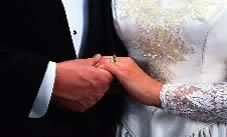 Traditional Marriage advocates won another major fight this week as a federal court of appeals in Nebraska overturned a previous ruling that a referendum to the constitution banning same-sex "marriages" was unconstitutional.
Seventy percent of Nebraska voters approved the constitutional amendment in 2000. That amendment reads: "Only marriage between a man and a woman shall be valid or recognized in Nebraska. The uniting of two persons of the same sex in a civil union, domestic partnership, or other similar same-sex relationship shall not be valid or recognized in Nebraska." Tennessee also joined the ranks today when that state's Supreme Court ruled that voters in the Volunteer State would be allowed to vote on a constitutional amendment protecting traditional marriage. Mat Staver, founder of
Liberty Counsel
, says his Orlando-based legal group is pleased with the ruling in Nebraska. Mr. Staver said the ruling by Nebraska's court of appeals
stops "the latest attempt by the homosexual agenda to radically redefine" the culture.
I think Brian Fahling, senior trial attorney for the Center for Law & Policy, said it best when he said:
"[T]he early success of homosexuals using the courts to force their radical agenda on an unwilling nation appears to be turning on them. Government by the people is always preferable to government by the judiciary."
Good week for proponents of traditional marriage as New York, Georgia, and now Nebraska and Tennessee saw justice as the people's vote stood and democracy prevailed. As for Massachusetts, well the people are getting fed up with their legislatures inability to represent them and many, in my opinion, are either going to have to listen to their constituents and let them vote on marriage or find another job after the November elections.